Earlier today, Bitcoin experienced a 'golden cross' moment – an event where the short-term average price crosses above the long-term average price. In short, it means the market is going up in price – but for how long?
The new #BTC Golden Cross is here$BTC #Crypto #Bitcoin pic.twitter.com/IelpQIF499

— Rekt Capital (@rektcapital) August 14, 2021
In financial circles, a golden cross is almost always viewed as a strong indicator of an impending bull market – but it's not perfect. Due to it being a lagging indicator (it appears once the event has already started) it could still occur even after the market has turned bearish, particularly in cases of extreme volatility. However, more often than not history shows that the market will continue to go up for some time following a golden cross moment.
The golden cross is best measured on the daily chart using a 50-day exponential moving average (50-EMA) and a 200-day simple moving average (200-SMA), but it can also use other timescales, depending on your trading strategy. However, following the golden cross occurrence today, Bitcoin only briefly rallied higher before a rejection at $48k followed by a sharp correction. This prompts us to question – where is the market going from here?
According to Bybit, traders should wait for the price to go higher before confirming the bullish market. Only if the crossover closes above the two moving averages should you enter the trade on the next candle. In this instance, the sudden trend reversal to the downside means this golden cross' bullish rally could fail to materialize.
A bearish scenario
Earlier today, crypto trader 'Dave the Wave' (@davthewave) presented a potential downside scenario based on Bitcoin's historical movements. His graph outlines common movements following previous bull markets in the year after the Bitcoin halving event. In both the years following both previous halvings, Bitcoin experienced a false rally soon after topping out, very similar to what we have seen this month. Of course, history doesn't always repeat itself but the similarities are striking.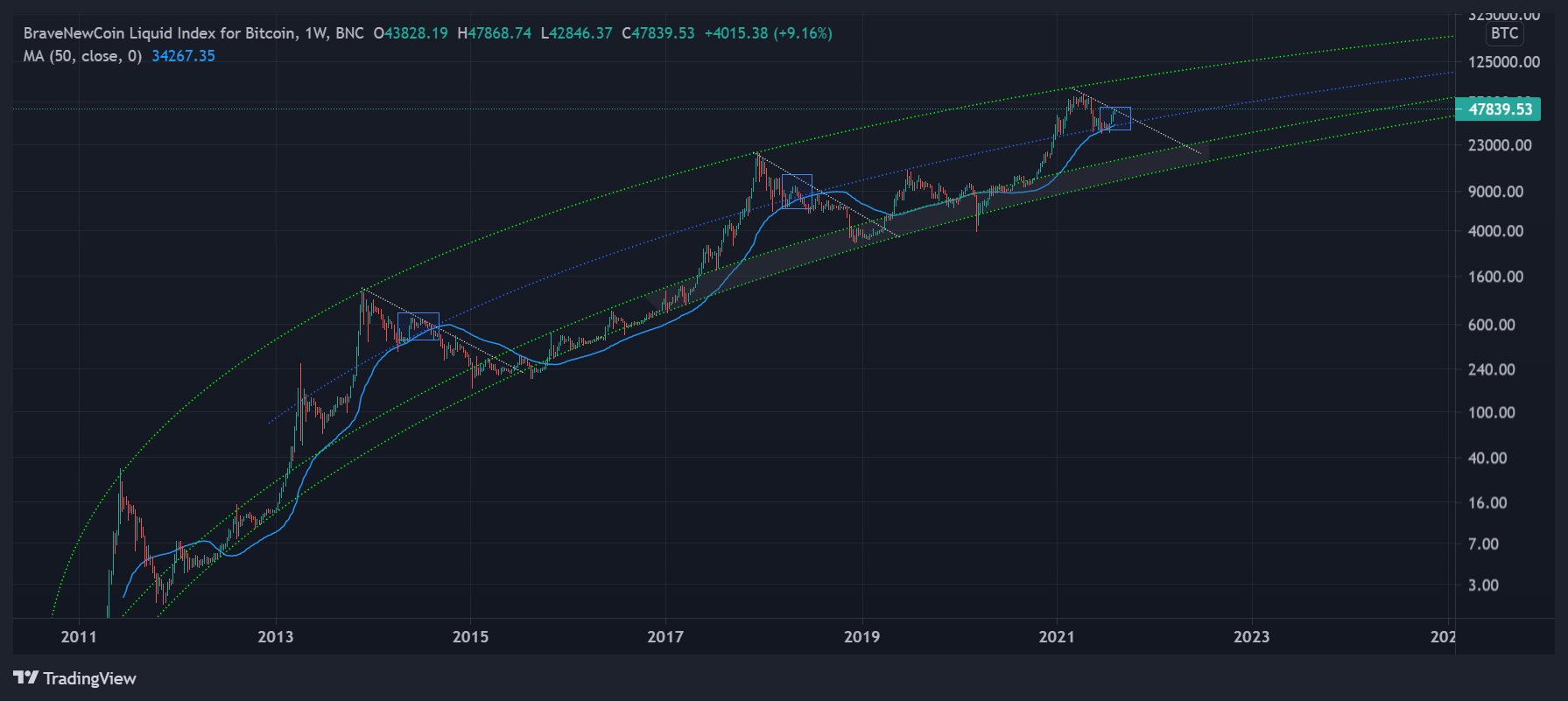 That said, in early 2013 Bitcoin experienced an 80% correction before swiftly recovering and eventually rallying four times higher than its previous all-time high. Considering the vastly reduced time span since the May 2020 halving, most people would argue that it's unlikely this cycle is over yet. In previous cycles, Bitcoin has only topped out at least 18 months after halving, and this duration should be expanding, not contracting, as the market matures.