All good things must come to an end and a Bitcoin (BTC) rally is no exception. After a week of highs, the price of Bitcoin got rejected heavily at $9,000 this weekend.
At it's highest point, the BTC price touched $9,100, dropped, stuttered, and then collapsed all the way down to $8,600. It seems a large contingent of sellers with weak hands were waiting in the wings to dump their bags as soon as BTC hit that sweet $9,000 level.
However, experienced traders won't have been caught off guard as the correction was a long time coming. Since the beginning of the year, the price of BTC has climbed steadily from a low of $6,800 all the way $9,000 in a matter of weeks. Any trader worth his salt knows that unchecked growth at that rate is unsustainable and the rally had to crack at some point.
Not all is lost though, as Bitcoin has managed to solidify some (albeit weak) foundations on a couple of support levels this month. If the current bullish trend bucks this correction and treads water above $8,100 then we should see the rally continue to $10,000 soon enough.
Looking at daily candles, Bitcoin has closed green 13 out of 20 days this year – that tells me we have an optimistic market and it's going to take a bit more than a few panic sellers to scare it off. We saw a minor test of $8,500 earlier today but it looks like that level is holding strong – for now.
What's happening in the news?
The fate of XRP is still in limbo!
Two years later and U.S regulators are still arguing over whether or not XRP is a security. Now the Commodity Futures Trading Commission (CFTC) has added further confusion to the proceedings with the new of their development of a market for cryptocurrencies. However, CFTC Chairman Heath Tarbert is not sure if XRP will be included as the decision still lies in the hands of our old friend the U.S Security and Exchange Commission (SEC).
The price of XRP has enjoyed gains this month along with the rest of the crypto market, rising from a low of $0.18 to current levels around $0.22. This is the same level it floated around for most of 2017 before the December rally. Whatever the outcome of the case, I for one hope it ends soon because honestly, it's getting quite boring now.
CME Bitcoin Options doing spectacularly!
The CME Group launched its Bitcoin Options product last week and was met with a flurry of demand. On the January 13th launch date early last week, the product attracted over $2 million of investment in one day. This was followed by a low period midweek and then a sudden injection of over $5 million on Friday as markets drew to a close.
Considering the success of CME Bitcoin Options, many are now asking whether the launch of last year's much-anticipated Bakkt platform was worth the hype. The CME Bitcoin Options trading volume data (provided by @Skewdotcom) leaves Bakkt's minor sales in the dust, where they will most likely stay. It's unlikely the Bitcoin derivatives market is big enough yet to require multiple platforms, but hey – one can always dream!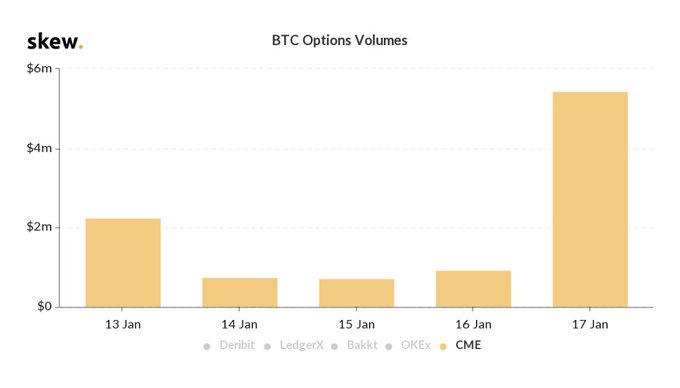 First week of CME options closed on a strong note with 610 bitcoin options trading on Friday pic.twitter.com/fNIWp8CDs8

— skew (@skewdotcom) January 20, 2020